Impact Traffic Doors & Crash Doors
Impact traffic doors are ideal for retail, commercial and institutional applications where a barrier is required between a public and storage area allowing for pass through of pedestrian and cart traffic.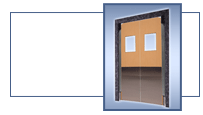 All STAR 75 IMPACT DOOR, This versatile retail door works with pedestrian and cart traffic. You can choose from laminated, aluminum, stainless steel, galvanized steel, wood veneer or ABS outer finish. The ALL STAR's cam type hardware is fully enclosed with spherical bearings.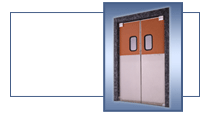 SERIES 1000 , "privacy door" boasts the "Super Swing" spring-free gravity hinge that opens with the slightest touch and closes softly and quietly. Perfect for super markets, stores, restaurants and pharmacies.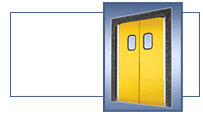 SERIES 1500, Impact traffic door is the perfect general purpose door. The cam type hinge hardware with hidden hinge design minimizes maintenance, while maximizing door life. Great for Supermarkets, retail and BIG BOX stores, restaurants, pharmacies, and processing plants.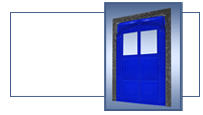 SERIES 2000, Impact traffic door, These tuff, durable door panels are suspended from gravity hinges on the top only. This allows wide loads to pass through unobstructed. Ideal for pedestrian, push cart, light motorized, and forklift traffic. Permits speedy traffic flow while conserving energy.